Wyre Forest Young Voices is the youth choir of Kidderminster Choral Society. WFYV was formed in 1997, under the direction of Geoff Weaver. Supported by accompanist Charlotte Jones, the choir now has over 60 members, aged 11 – 18 years. The youth choir (and it's children's choir, Primary Chords, for younger children) aims to create singing opportunities for young people through musical performance and to provide a practical musical education.
Past recitals have included Bath Abbey, Exeter Cathedral, Wells Cathedral, Buckfast Abbey and Lindisfarne. Overseas concert tours have been to Germany, Poland, Estonia, the Netherlands, France, The Czech Republic and twice to Cyprus, including a "reconciliation" concert bringing together Greek and Turkish Cypriot choirs – a rare achievement.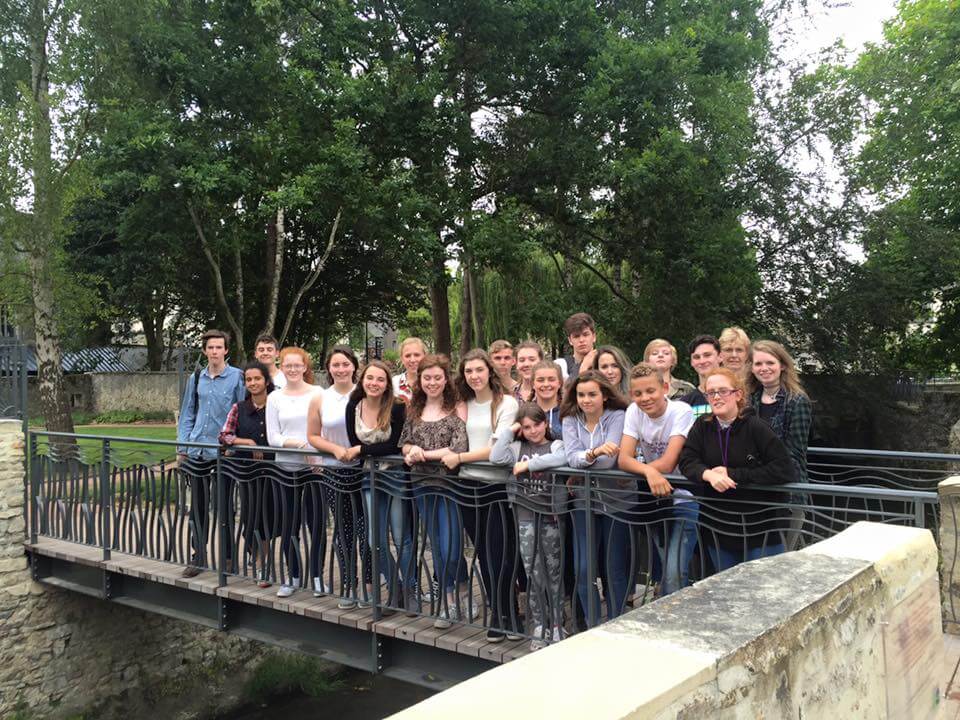 The Young Voices Chorale is the senior section of the choir.  All with at least two year's membership, this section of the choir is for the more accomplished singers and includes our baritone members. 
Singing more challenging pieces, the Chorale members stay on for a longer rehearsal and perform some concert pieces separately to the main choir. 
Membership of the Chorale is very aspirational, and it is a great achievement when a choir member is invited to join the Choral.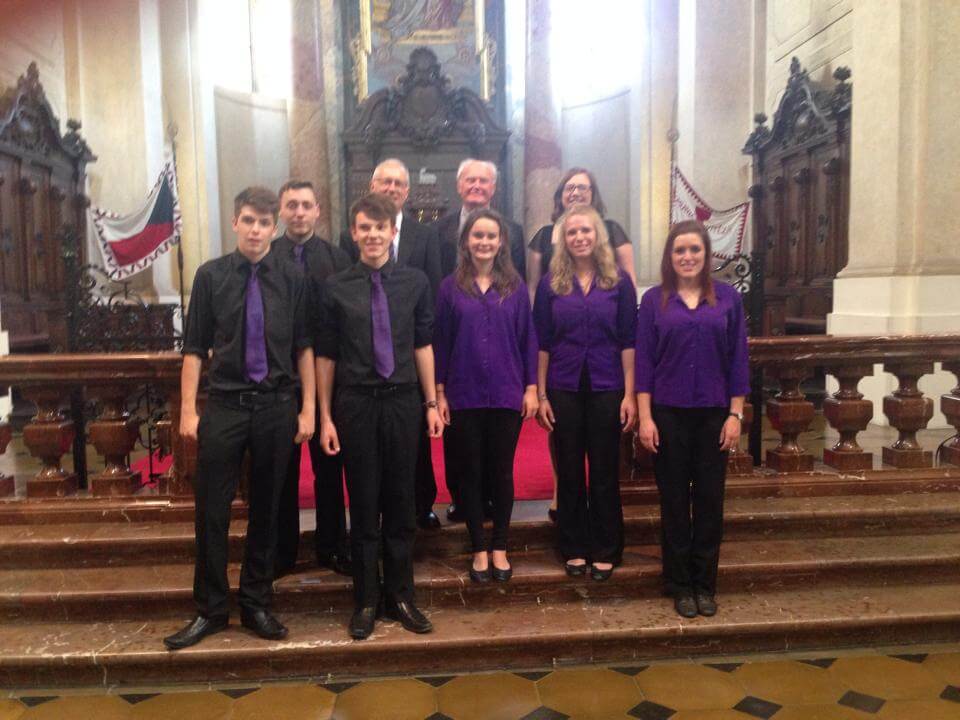 We are Celebrating!
In 2017 Wyre Forest Young Voices celebrated their 20th Anniversary, an exciting milestone!  They are looking forward to the next 20 years!
A broad variety of Choral Repertoire
From Folk to Classical
The choir tackles a broad variety of repertoire from popular music to folk, theatre and classical. In the past they have performed songs from Phantom of the Opera, Les Miserables and Joseph, as well as a concert programme devoted to the folk songs written about the Kidderminster Carpet Trade, and one entitled "Penny Black" telling the history of the penny postage invented by Kidderminster's Sir Rowland Hill.
Wyre Forest Young Voices perform their own annual series of concerts, frequently with Primary Chords, in Kidderminster Town Hall, as separate concerts within the local area.  They also take part in some of Choral Society's concerts, including; the KCS Annual Christmas Concert where the whole family of choirs sing together.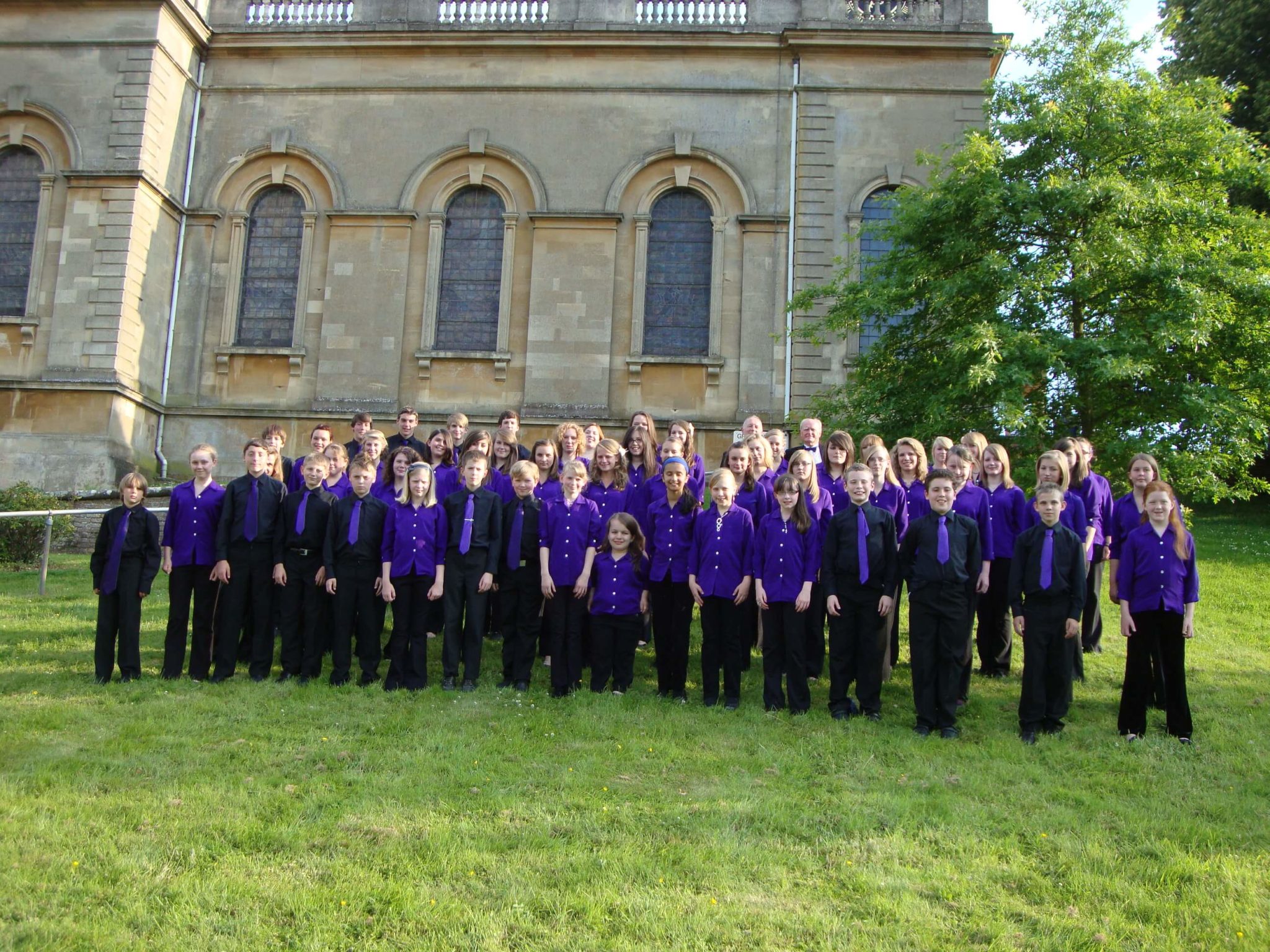 They also featured in KCS' Jubilee concert,  "A Night at the Opera", Britten's St Nicolas and War Requiem, Handel's Messiah, Bach's St. Matthew Passion and Chilcott's Salisbury Vespers.
During this time of COVID-19 we are unable to perform publicly.  We look forward to a future time when we are able to do so.  In the meantime our choirs are busy singing for themselves and you may enjoy the following produced by locked down members of Wyre Forest Young Voices and their professional team. 
Here's the latest lockdown recording from WFYV.  A beautiful rendition of 'Didn't it rain'
Here is another beautiful performance of Fields of Gold by the WFYV during Lockdown.
A Successful Premier Youth Choir in the Midlands
Entering competitions and touring nationally and internationally
Choir of the Day Winners
Wyre Forest Young Voices has become one of the premier youth choirs in the Midlands, and has received great critical acclaim. The choir has taken part in competitions, and achieved Choir of the Day in the Midlands area of Sainsbury's Choir of the Year competition.
Lovely blended tone quality and rhythmic vitality. The polish and discipline enable the choir to sing softly and to create magical peace.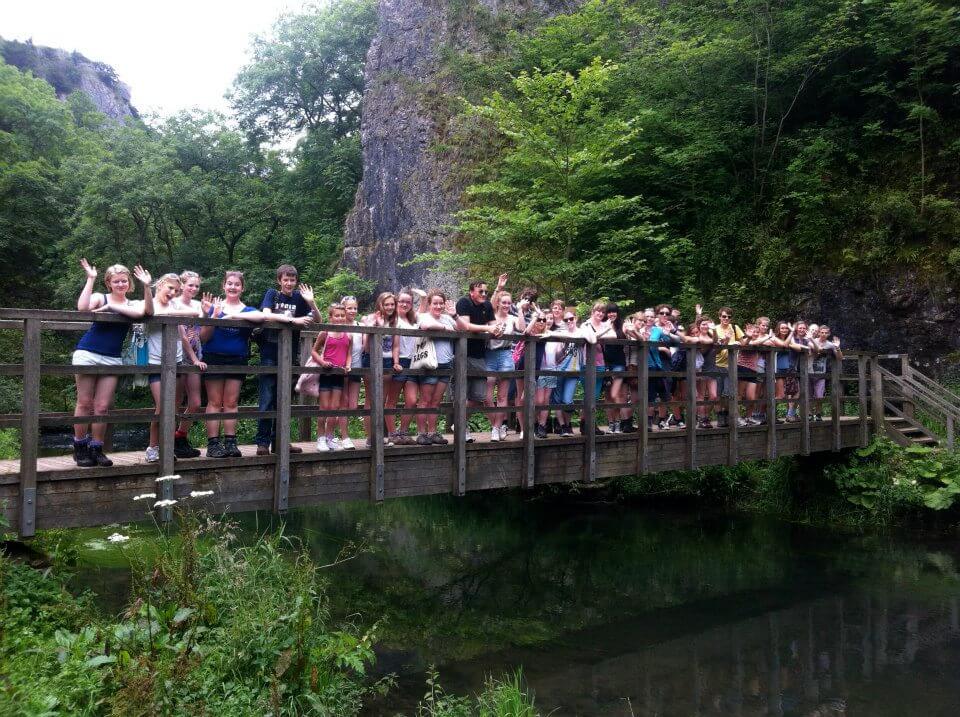 A Touring Singing Community
The choir tours regularly both nationally and internationally. Recent international tours have included visits to Germany, the Netherlands, Cyprus, Poland, The Czech Republic and Estonia.  They have just returned from a very successful tour of Normandy in France, where they received standing ovations in all concert venues, including Bayeux Cathedral. 
The choir has also completed some very successful UK tours, including Northumberland, Derbyshire, Bath and Pembrokeshire where they performed in St David's Cathedral.
Career Building
Former members of the choir have gone on to read music at university or music conservatoires, take on professional careers in music and become members of professional ensembles such as the choirs of Wells Cathedral, Manchester Cathedral, The Sixteen's Genesis Programme and Ex Cathedra.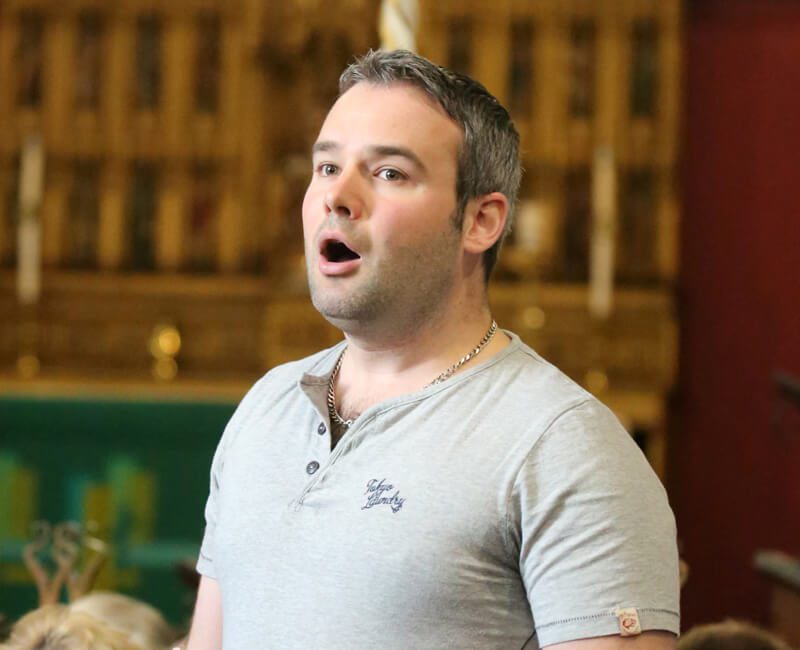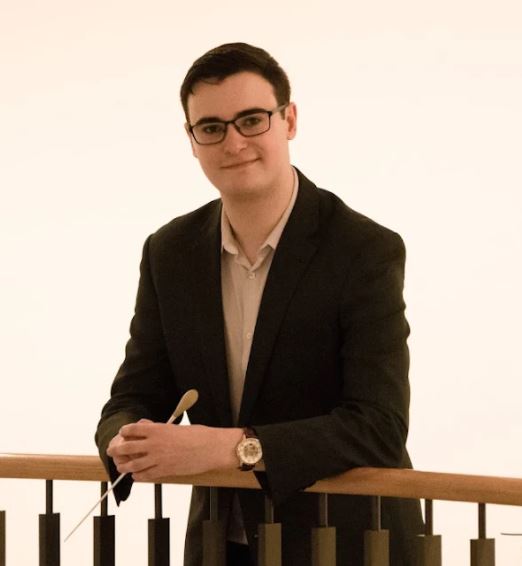 Benedict Goodall – Musical Director
Benedict is an exciting and enthusiastic young conductor, working with both vocal and instrumental ensembles across Oxfordshire and the West Midlands. Having read music at the University of Birmingham, Benedict sought every opportunity to work with as many musicians as possible as a conductor, singer or french horn player. Studying conducting under Simon Halsey, Julian Wilkins, and Daniele Rosina, Benedict enjoyed directing many of the Universities choirs and instrumental ensembles throughout his years there.
Working as a professional conductor and singer, Benedict currently directs the Telford Orchestra, the Chipping Norton Choral Society, newChoir Oxford, the Wyre Forest Young Voices, and the Oxford University Press Choir. Alongside these ensembles he sings for the Birmingham Oratory, having been a Stipendiary Clerk at Magdalen College, Oxford and a Lay Clerk at Birmingham Cathedral and Coventry Cathedral. He's regularly engaged as a soloist and as a guest conductor, and enjoys teaching singing and brass to both children and adults.
In 2021 he was a part of the National Youth Choirs of Great Britain's Fellowship Scheme, studying under Ben Parry and working with musicians such as Voces8, Bob Chilcott, and Suzzie Vango.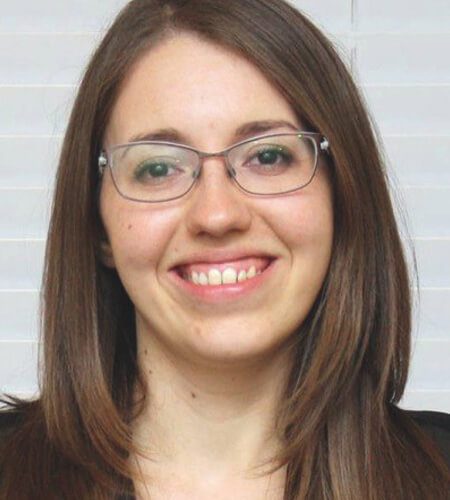 Charlotte Jay-Jones – Musical Accompanist
Charlotte primarily teaches piano, organ and electronic keyboard through her own extensive practice in South Birmingham.  Along with her teaching role at St. Jon's Middle School in Bromsgrove, she is also choral and instrumental accompanist at RGS Dodderhill in Droitwich, supporting young people's musical development and building their confidence as performers.  She has performed in various venues throughout the UK and Europe as both a soloist and accompanist.  Her achievements include winning Bromsgrove Music School Festival as the youngest in her category, placing third in the National Electronic Organ Championships and performing at the ICC, Birmingham and recently Orléans Cathedral. When not playing the piano, Charlotte is kept very busy with her two young children.
Naomi Berry – Vocal Coach
Naomi's decision to pursue a profession in music was due to her experiences, training and support she received as a member of WFYV. Now an alumna, she is a recent graduate of Royal Birmingham Conservatoire. During this time, Naomi won the Anna Mansell cup for outstanding achievement, the Leamington music prize, two time winner of the Corton Hyde Early Music prize as well as being a finalist for the Town Hall Symphony Hall prize with her consort, The Brindley Consort. Naomi has enjoyed being a member of Genesis Sixteen and working with ExCathedra. She has worked with conductors including Harry Christophers CBE, Jeffrey Skidmore OBE and has undertaken masterclasses with Michael Chance, Andrew King and Roderick Williams. Solo performances include the London premiere of Oliver Tarney's Magnificat and Mozart's Coronation Mass in Cadogan Hall, Will Todd's Jazz Mass World Premiere, and ExCathedra's St Lucia service. Opera roles have included Susannah in the Marriage of Figaro, Galatea in Acis and Galatea and Belinda in Dido and Aeneas.
Rehearsal Times & Subscriptions
When? Thursday evenings
Time?   5.15pm to 6.15pm (Young Voices) 5.15pm to 7.00pm (Chorale)
Where? Trinity Methodist Church Hall, 3 Churchfields, Kidderminster DY10 2JL
Trinity Methodist Church Hall, 3 Churchfields, Kidderminster DY10 2JL
Young Voices - £45 per term
New members are not required to pay anything until 6 weeks after their first rehearsal.
Become a Member Today!
For more information on joining the Young Voices and Chorale choir, please fill out our form below and the Choir Coordinator, Wendy James, will be in touch.
eyJpZCI6IjE1IiwibGFiZWwiOiJNZW1iZXItWW91bmcgVm9pY2VzIiwiYWN0aXZlIjoiMSIsIm9yaWdpbmFsX2lkIjoiMSIsInVuaXF1ZV9pZCI6IndlZmoyIiwicGFyYW1zIjp7ImVuYWJsZUZvck1lbWJlcnNoaXAiOiIwIiwidHBsIjp7IndpZHRoIjoiMTAwIiwid2lkdGhfbWVhc3VyZSI6IiUiLCJiZ190eXBlXzAiOiJub25lIiwiYmdfaW1nXzAiOiIiLCJiZ19jb2xvcl8wIjoiIzgxZDc0MiIsImJnX3R5cGVfMSI6ImNvbG9yIiwiYmdfaW1nXzEiOiIiLCJiZ19jb2xvcl8xIjoiIzMzMzMzMyIsImJnX3R5cGVfMiI6ImNvbG9yIiwiYmdfaW1nXzIiOiIiLCJiZ19jb2xvcl8yIjoiI2MyOTg2NyIsImJnX3R5cGVfMyI6ImNvbG9yIiwiYmdfaW1nXzMiOiIiLCJiZ19jb2xvcl8zIjoiI2MyOTg2NyIsImZpZWxkX2Vycm9yX2ludmFsaWQiOiIiLCJmb3JtX3NlbnRfbXNnIjoiVGhhbmsgeW91IGZvciBjb250YWN0aW5nIHVzISBPdXIgbWVtYmVyc2hpcCBTZWNyZXRhcnkgd2lsbCBiZSBpbiB0b3VjaCBzaG9ydGx5LiIsImZvcm1fc2VudF9tc2dfY29sb3IiOiIjNGFlOGVhIiwiaGlkZV9vbl9zdWJtaXQiOiIxIiwicmVkaXJlY3Rfb25fc3VibWl0IjoiIiwidGVzdF9lbWFpbCI6ImxpbnppLmR1bm5AbmV0dGwuY29tIiwic2F2ZV9jb250YWN0cyI6IjEiLCJleHBfZGVsaW0iOiI7IiwiZmJfY29udmVydF9iYXNlIjoiIiwicHViX3Bvc3RfdHlwZSI6InBvc3QiLCJwdWJfcG9zdF9zdGF0dXMiOiJwdWJsaXNoIiwicmVnX3dwX2NyZWF0ZV91c2VyX3JvbGUiOiJzdWJzY3JpYmVyIiwiZmllbGRfd3JhcHBlciI6IjxkaXYgW2ZpZWxkX3NoZWxsX2NsYXNzZXNdIFtmaWVsZF9zaGVsbF9zdHlsZXNdPltmaWVsZF08XC9kaXY+In0sImZpZWxkcyI6W3sibGFiZWwiOiIiLCJwbGFjZWhvbGRlciI6IkZ1bGwgTmFtZSIsImh0bWwiOiJ0ZXh0IiwidmFsdWUiOiIiLCJtYW5kYXRvcnkiOiIxIiwibmFtZSI6ImZ1bGxfbmFtZSIsImJzX2NsYXNzX2lkIjoiMTIiLCJkaXNwbGF5IjoiIiwibWluX3NpemUiOiIiLCJtYXhfc2l6ZSI6IiIsImFkZF9jbGFzc2VzIjoiIiwiYWRkX3N0eWxlcyI6IiIsImFkZF9hdHRyIjoiIiwidm5fb25seV9udW1iZXIiOiIwIiwidm5fb25seV9sZXR0ZXJzIjoiMCIsInZuX3BhdHRlcm4iOiIwIiwiZGVmX2NoZWNrZWQiOiIwIn0seyJsYWJlbCI6IiIsInBsYWNlaG9sZGVyIjoiQ29udGFjdCBOdW1iZXIiLCJodG1sIjoidGV4dCIsInZhbHVlIjoiIiwibWFuZGF0b3J5IjoiMSIsIm5hbWUiOiJ0ZWxlcGhvbmVfbnVtYmVyIiwiYnNfY2xhc3NfaWQiOiI2IiwiZGlzcGxheSI6InJvdyIsIm1pbl9zaXplIjoiIiwibWF4X3NpemUiOiIiLCJhZGRfY2xhc3NlcyI6IiIsImFkZF9zdHlsZXMiOiIiLCJhZGRfYXR0ciI6IiIsInZuX29ubHlfbnVtYmVyIjoiMCIsInZuX29ubHlfbGV0dGVycyI6IjAiLCJ2bl9wYXR0ZXJuIjoiIiwiZGVmX2NoZWNrZWQiOiIwIn0seyJsYWJlbCI6IiIsInBsYWNlaG9sZGVyIjoiRW1haWwgQWRkcmVzcyIsImh0bWwiOiJlbWFpbCIsInZhbHVlIjoiIiwibWFuZGF0b3J5IjoiMSIsIm5hbWUiOiJlbWFpbCIsImJzX2NsYXNzX2lkIjoiNiIsImRpc3BsYXkiOiJyb3ciLCJtaW5fc2l6ZSI6IiIsIm1heF9zaXplIjoiIiwiYWRkX2NsYXNzZXMiOiIiLCJhZGRfc3R5bGVzIjoiIiwiYWRkX2F0dHIiOiIiLCJ2bl9vbmx5X251bWJlciI6IjAiLCJ2bl9vbmx5X2xldHRlcnMiOiIwIiwidm5fcGF0dGVybiI6IjAiLCJkZWZfY2hlY2tlZCI6IjAifSx7ImxhYmVsIjoiIiwicGxhY2Vob2xkZXIiOiJNZXNzYWdlIiwiaHRtbCI6InRleHRhcmVhIiwidmFsdWUiOiIiLCJtYW5kYXRvcnkiOiIxIiwibmFtZSI6Im1lc3NhZ2UiLCJic19jbGFzc19pZCI6IjEyIiwiZGlzcGxheSI6InJvdyIsIm1pbl9zaXplIjoiIiwibWF4X3NpemUiOiIiLCJhZGRfY2xhc3NlcyI6IiIsImFkZF9zdHlsZXMiOiIiLCJhZGRfYXR0ciI6IiIsInZuX29ubHlfbnVtYmVyIjoiMCIsInZuX29ubHlfbGV0dGVycyI6IjAiLCJ2bl9wYXR0ZXJuIjoiMCIsImRlZl9jaGVja2VkIjoiMCJ9LHsibGFiZWwiOiJZZXMgSSB3b3VsZCBsaWtlIHRvIHJlY2VpdmUgbWFya2V0aW5nIG1hdGVyaWFscyBmcm9tIEtpZGRlcm1pbnN0ZXIgQ2hvcmFsIFNvY2lldHkuIiwicGxhY2Vob2xkZXIiOiIiLCJodG1sIjoiY2hlY2tib3giLCJ2YWx1ZSI6IiIsIm1hbmRhdG9yeSI6IjAiLCJuYW1lIjoiR0RQUkNoZWNrYm94ZXMiLCJic19jbGFzc19pZCI6IjEyIiwiZGlzcGxheSI6InJvdyIsIm1pbl9zaXplIjoiIiwibWF4X3NpemUiOiIiLCJhZGRfY2xhc3NlcyI6IiIsImFkZF9zdHlsZXMiOiIiLCJhZGRfYXR0ciI6IiIsInZuX29ubHlfbnVtYmVyIjoiMCIsInZuX29ubHlfbGV0dGVycyI6IjAiLCJ2bl9wYXR0ZXJuIjoiIiwidmFsdWVfcHJlc2V0IjoiIiwiZGVmX2NoZWNrZWQiOiIwIiwibGFiZWxfZGVsaW0iOiIiLCJ2bl9lcXVhbCI6IiIsImljb25fY2xhc3MiOiIiLCJpY29uX3NpemUiOiIiLCJpY29uX2NvbG9yIjoiIiwiaWNvbl9zZWxlY3RlZF9jb2xvciI6IiIsInJhdGVfbnVtIjoiIiwidGltZV9mb3JtYXQiOiJhbV9wbSJ9LHsibGFiZWwiOiJTZW5kIiwicGxhY2Vob2xkZXIiOiIiLCJodG1sIjoic3VibWl0IiwidmFsdWUiOiIiLCJtYW5kYXRvcnkiOiIwIiwibmFtZSI6InNlbmQiLCJic19jbGFzc19pZCI6IjYiLCJkaXNwbGF5IjoiIiwibWluX3NpemUiOiIiLCJtYXhfc2l6ZSI6IiIsImFkZF9jbGFzc2VzIjoiIiwiYWRkX3N0eWxlcyI6IiIsImFkZF9hdHRyIjoiIiwidm5fb25seV9udW1iZXIiOiIwIiwidm5fb25seV9sZXR0ZXJzIjoiMCIsInZuX3BhdHRlcm4iOiIwIiwiZGVmX2NoZWNrZWQiOiIwIn0seyJsYWJlbCI6IlJlc2V0IiwicGxhY2Vob2xkZXIiOiIiLCJodG1sIjoicmVzZXQiLCJ2YWx1ZSI6IiIsIm1hbmRhdG9yeSI6IjAiLCJuYW1lIjoicmVzZXQiLCJic19jbGFzc19pZCI6IjYiLCJkaXNwbGF5IjoiIiwibWluX3NpemUiOiIiLCJtYXhfc2l6ZSI6IiIsImFkZF9jbGFzc2VzIjoiIiwiYWRkX3N0eWxlcyI6IiIsImFkZF9hdHRyIjoiIiwidm5fb25seV9udW1iZXIiOiIwIiwidm5fb25seV9sZXR0ZXJzIjoiMCIsInZuX3BhdHRlcm4iOiIwIiwiZGVmX2NoZWNrZWQiOiIwIn1dLCJvcHRzX2F0dHJzIjp7ImJnX251bWJlciI6IjQifX0sImltZ19wcmV2aWV3IjoiYmFzZS1jb250YWN0LmpwZyIsInZpZXdzIjoiNDE0NiIsInVuaXF1ZV92aWV3cyI6IjI4NTgiLCJhY3Rpb25zIjoiMTgiLCJzb3J0X29yZGVyIjoiMCIsImlzX3BybyI6IjAiLCJhYl9pZCI6IjAiLCJkYXRlX2NyZWF0ZWQiOiIyMDE2LTA4LTAzIDEyOjM3OjU0IiwiaW1nX3ByZXZpZXdfdXJsIjoiaHR0cHM6XC9cL3d3dy5raWRkZXJtaW5zdGVyY2hvcmFsc29jaWV0eS5jby51a1wvd3AtY29udGVudFwvcGx1Z2luc1wvY29udGFjdC1mb3JtLWJ5LXN1cHN5c3RpY1wvYXNzZXRzXC9mb3Jtc1wvaW1nXC9wcmV2aWV3XC9iYXNlLWNvbnRhY3QuanBnIiwidmlld19pZCI6IjE1XzUwMTYzNSIsInZpZXdfaHRtbF9pZCI6ImNzcEZvcm1TaGVsbF8xNV81MDE2MzUiLCJjb25uZWN0X2hhc2giOiJkZjc5NmRjZmU1NGYyODQ1OTAwYWRjMDVmZWRkZTRiMiJ9