Kidderminster Choral Society is a mixed, non-auditioned choir, rehearsing and performing mainly in Kidderminster, Worcestershire, in the West Midlands; we sing the great works of the choral repertoire, from Purcell to Tippett, from Bach to Bernstein.
We have about 150 members, and our main performance venue is the 160 year old Town Hall of Kidderminster, with its magnificent William Hill organ.
We do perform elsewhere – in the Summer you may find us at Harvington Hall, St Anne's Church or Dudmaston Hall, or performing Gilbert and Sullivan in Belbroughton Church or Wribbenhall Church!
Every four years or so, we take flight to Germany, where we sing with the Theodor Storms Chor, the choral society in our twin town of Husum.
An important part of our work is with young people, and we have established two choirs, one for young people aged from ten to eighteen (Wyre Forest Young Voices) and the other for children aged from five to nine (Primary Chords).
The Society is affiliated to Making Music (the National Federation of Music Societies), and is a member of the Kidderminster-Husum Twinning Association.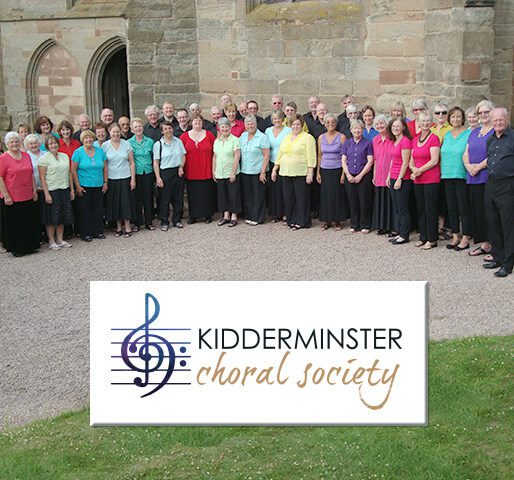 President:
> John Gaston
Vice-Presidents:
> The Mayor of Kidderminster
> The Chairman of Wyre Forest District Council
Life Vice-Presidents:
> Harry Bramma (former Director of Music, All Saints, Margaret Street, London)
> Michael Elden
> Philip Head
> Marcus Huxley (Director of Music, Birmingham Cathedral)
> Andrew Millington (Director of Music, Exeter Cathedral)
> Kit Mockett
> Jonathan Price
> Pauline Powell
For general enquiries please get in touch here.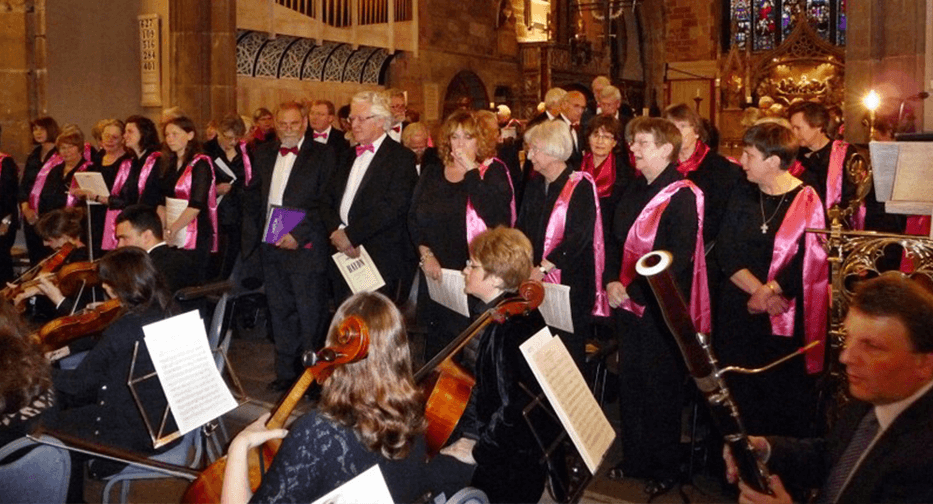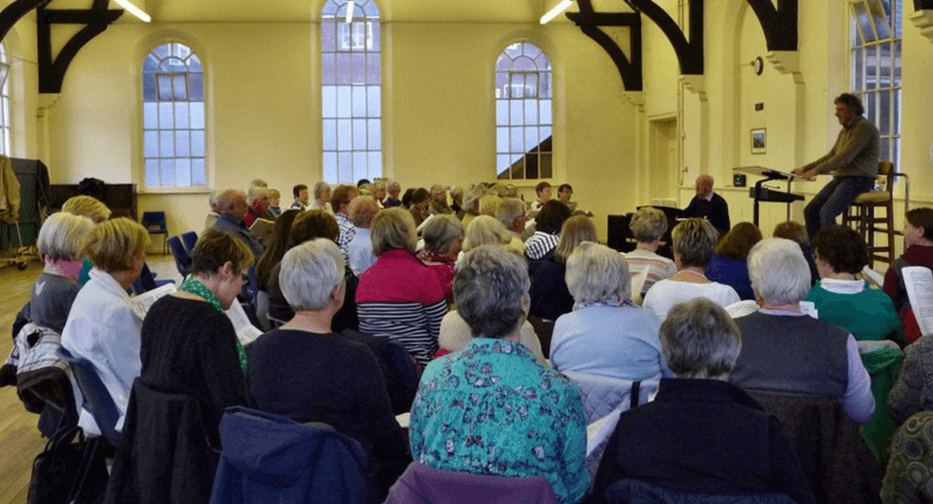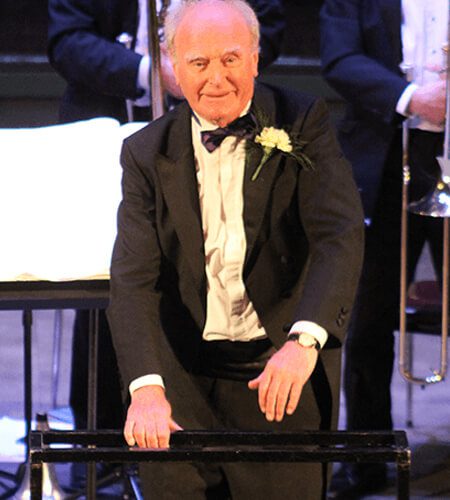 Geoff Weaver – Musical Director
Geoff was appointed in 1987, and is also the Musical Director of our Youth Choir, the Wyre Forest Young Voices.
He also conducts the St. Michael's Chamber Choir, based in Wolverhampton.
Geoff was the Director of Outreach for the Royal School of Church Music until 2002, and he continues to work for them and for many other organisations on a freelance basis.
He presently undertakes numerous teaching and conducting engagements at home and abroad including Nigeria, the USA, Hong Kong, Australia, Canada, Kenya, Poland, Cyprus, the Philippines and Estonia.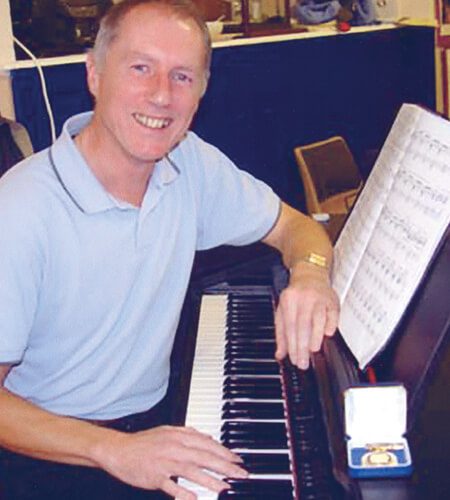 Mike Elden – Musical Accompanist
Mike, a native of Yorkshire, was a Junior Exhibitioner at the Royal Northern College of Music, going on to study at the Royal College of Music in London and then, after graduating, to teacher training at Bretton Hall.
Having taught for many years, he is now a freelance accompanist for choirs, instrumentalists, singers, theatre and dance, as well as organist for church services in Worcester and the West Midlands.
In 2015 Mike retired from the post of the rehearsal pianist and accompanist for the Wyre Forest Young Voices, his place being taken by Charlotte Jones (see below).
Rehearsal Times & Subscriptions
When? Thursday evenings
Time?   7.30pm to 9.15pm
Where? Trinity Methodist Church Hall, 3 Churchfields, Kidderminster DY10 2JL
Trinity Methodist Church Hall, 3 Churchfields, Kidderminster DY10 2JL
Total Subscription £200
(If you wish also to sing in the KCS Summer Singers)
Become a Member Today!
For more information on joining the Choral Society, please fill out our form below and our Membership Secretary, Martin Lewis, will be in touch.
eyJpZCI6IjEwIiwibGFiZWwiOiJNZW1iZXItY2hvcmFsLWFkdWx0IiwiYWN0aXZlIjoiMSIsIm9yaWdpbmFsX2lkIjoiMSIsInVuaXF1ZV9pZCI6IndlZmoyIiwicGFyYW1zIjp7ImVuYWJsZUZvck1lbWJlcnNoaXAiOiIwIiwidHBsIjp7IndpZHRoIjoiMTAwIiwid2lkdGhfbWVhc3VyZSI6IiUiLCJiZ190eXBlXzAiOiJub25lIiwiYmdfaW1nXzAiOiIiLCJiZ19jb2xvcl8wIjoiIzgxZDc0MiIsImJnX3R5cGVfMSI6ImNvbG9yIiwiYmdfaW1nXzEiOiIiLCJiZ19jb2xvcl8xIjoiIzMzMzMzMyIsImJnX3R5cGVfMiI6ImNvbG9yIiwiYmdfaW1nXzIiOiIiLCJiZ19jb2xvcl8yIjoiI2MyOTg2NyIsImJnX3R5cGVfMyI6ImNvbG9yIiwiYmdfaW1nXzMiOiIiLCJiZ19jb2xvcl8zIjoiI2MyOTg2NyIsImZpZWxkX2Vycm9yX2ludmFsaWQiOiIiLCJmb3JtX3NlbnRfbXNnIjoiVGhhbmsgeW91IGZvciBjb250YWN0aW5nIHVzISBPdXIgbWVtYmVyc2hpcCBTZWNyZXRhcnkgd2lsbCBiZSBpbiB0b3VjaCBzaG9ydGx5LiIsImZvcm1fc2VudF9tc2dfY29sb3IiOiIjNGFlOGVhIiwiaGlkZV9vbl9zdWJtaXQiOiIxIiwicmVkaXJlY3Rfb25fc3VibWl0IjoiIiwidGVzdF9lbWFpbCI6ImxpbmRzYXl3aGl0ZUBidGNvbm5lY3QuY29tIiwic2F2ZV9jb250YWN0cyI6IjEiLCJleHBfZGVsaW0iOiI7IiwiZmJfY29udmVydF9iYXNlIjoiIiwicHViX3Bvc3RfdHlwZSI6InBvc3QiLCJwdWJfcG9zdF9zdGF0dXMiOiJwdWJsaXNoIiwicmVnX3dwX2NyZWF0ZV91c2VyX3JvbGUiOiJzdWJzY3JpYmVyIiwiZmllbGRfd3JhcHBlciI6IjxkaXYgW2ZpZWxkX3NoZWxsX2NsYXNzZXNdIFtmaWVsZF9zaGVsbF9zdHlsZXNdPltmaWVsZF08XC9kaXY+In0sImZpZWxkcyI6W3sibGFiZWwiOiIiLCJwbGFjZWhvbGRlciI6IkZ1bGwgTmFtZSIsImh0bWwiOiJ0ZXh0IiwidmFsdWUiOiIiLCJtYW5kYXRvcnkiOiIxIiwibmFtZSI6ImZ1bGxfbmFtZSIsImJzX2NsYXNzX2lkIjoiMTIiLCJkaXNwbGF5IjoiIiwibWluX3NpemUiOiIiLCJtYXhfc2l6ZSI6IiIsImFkZF9jbGFzc2VzIjoiIiwiYWRkX3N0eWxlcyI6IiIsImFkZF9hdHRyIjoiIiwidm5fb25seV9udW1iZXIiOiIwIiwidm5fb25seV9sZXR0ZXJzIjoiMCIsInZuX3BhdHRlcm4iOiIwIiwiZGVmX2NoZWNrZWQiOiIwIn0seyJsYWJlbCI6IiIsInBsYWNlaG9sZGVyIjoiQ29udGFjdCBOdW1iZXIiLCJodG1sIjoidGV4dCIsInZhbHVlIjoiIiwibWFuZGF0b3J5IjoiMSIsIm5hbWUiOiJ0ZWxlcGhvbmVfbnVtYmVyIiwiYnNfY2xhc3NfaWQiOiI2IiwiZGlzcGxheSI6InJvdyIsIm1pbl9zaXplIjoiIiwibWF4X3NpemUiOiIiLCJhZGRfY2xhc3NlcyI6IiIsImFkZF9zdHlsZXMiOiIiLCJhZGRfYXR0ciI6IiIsInZuX29ubHlfbnVtYmVyIjoiMCIsInZuX29ubHlfbGV0dGVycyI6IjAiLCJ2bl9wYXR0ZXJuIjoiIiwiZGVmX2NoZWNrZWQiOiIwIn0seyJsYWJlbCI6IiIsInBsYWNlaG9sZGVyIjoiRW1haWwgQWRkcmVzcyIsImh0bWwiOiJlbWFpbCIsInZhbHVlIjoiIiwibWFuZGF0b3J5IjoiMSIsIm5hbWUiOiJlbWFpbCIsImJzX2NsYXNzX2lkIjoiNiIsImRpc3BsYXkiOiJyb3ciLCJtaW5fc2l6ZSI6IiIsIm1heF9zaXplIjoiIiwiYWRkX2NsYXNzZXMiOiIiLCJhZGRfc3R5bGVzIjoiIiwiYWRkX2F0dHIiOiIiLCJ2bl9vbmx5X251bWJlciI6IjAiLCJ2bl9vbmx5X2xldHRlcnMiOiIwIiwidm5fcGF0dGVybiI6IjAiLCJkZWZfY2hlY2tlZCI6IjAifSx7ImxhYmVsIjoiVm9pY2UgVHlwZSIsInBsYWNlaG9sZGVyIjoiIiwiaHRtbCI6InNlbGVjdGJveCIsInZhbHVlIjoiIiwibWFuZGF0b3J5IjoiMCIsIm5hbWUiOiJ2b2ljZV90eXBlIiwiYnNfY2xhc3NfaWQiOiIxMiIsImRpc3BsYXkiOiJyb3ciLCJtaW5fc2l6ZSI6IiIsIm1heF9zaXplIjoiIiwiYWRkX2NsYXNzZXMiOiIiLCJhZGRfc3R5bGVzIjoiIiwiYWRkX2F0dHIiOiIiLCJ2bl9vbmx5X251bWJlciI6IjAiLCJ2bl9vbmx5X2xldHRlcnMiOiIwIiwidm5fcGF0dGVybiI6IiIsImRlZl9jaGVja2VkIjoiMCIsIm9wdGlvbnMiOlt7Im5hbWUiOiJTb3ByYW5vIiwibGFiZWwiOiJTb3ByYW5vIn0seyJuYW1lIjoiQWx0byIsImxhYmVsIjoiQWx0byJ9LHsibmFtZSI6IkJhcml0b25lIiwibGFiZWwiOiJCYXJpdG9uZSJ9LHsibmFtZSI6IkJhc3MiLCJsYWJlbCI6IkJhc3MifSx7Im5hbWUiOiJUZW5vciIsImxhYmVsIjoiVGVub3IifV19LHsibGFiZWwiOiIiLCJwbGFjZWhvbGRlciI6Ik1lc3NhZ2UiLCJodG1sIjoidGV4dGFyZWEiLCJ2YWx1ZSI6IiIsIm1hbmRhdG9yeSI6IjEiLCJuYW1lIjoibWVzc2FnZSIsImJzX2NsYXNzX2lkIjoiMTIiLCJkaXNwbGF5Ijoicm93IiwibWluX3NpemUiOiIiLCJtYXhfc2l6ZSI6IiIsImFkZF9jbGFzc2VzIjoiIiwiYWRkX3N0eWxlcyI6IiIsImFkZF9hdHRyIjoiIiwidm5fb25seV9udW1iZXIiOiIwIiwidm5fb25seV9sZXR0ZXJzIjoiMCIsInZuX3BhdHRlcm4iOiIwIiwiZGVmX2NoZWNrZWQiOiIwIn0seyJsYWJlbCI6IlllcyBJIHdvdWxkIGxpa2UgdG8gcmVjZWl2ZSBtYXJrZXRpbmcgbWF0ZXJpYWxzIGZyb20gS2lkZGVybWluc3RlciBDaG9yYWwgU29jaWV0eS4iLCJwbGFjZWhvbGRlciI6IiIsImh0bWwiOiJjaGVja2JveCIsInZhbHVlIjoiIiwibWFuZGF0b3J5IjoiMCIsIm5hbWUiOiJHRFBSQ2hlY2tib3hlcyIsImJzX2NsYXNzX2lkIjoiMTIiLCJkaXNwbGF5Ijoicm93IiwibWluX3NpemUiOiIiLCJtYXhfc2l6ZSI6IiIsImFkZF9jbGFzc2VzIjoiIiwiYWRkX3N0eWxlcyI6IiIsImFkZF9hdHRyIjoiIiwidm5fb25seV9udW1iZXIiOiIwIiwidm5fb25seV9sZXR0ZXJzIjoiMCIsInZuX3BhdHRlcm4iOiIiLCJ2YWx1ZV9wcmVzZXQiOiIiLCJkZWZfY2hlY2tlZCI6IjAiLCJsYWJlbF9kZWxpbSI6IiIsInZuX2VxdWFsIjoiIiwiaWNvbl9jbGFzcyI6IiIsImljb25fc2l6ZSI6IiIsImljb25fY29sb3IiOiIiLCJpY29uX3NlbGVjdGVkX2NvbG9yIjoiIiwicmF0ZV9udW0iOiIiLCJ0aW1lX2Zvcm1hdCI6ImFtX3BtIn0seyJsYWJlbCI6IlNlbmQiLCJwbGFjZWhvbGRlciI6IiIsImh0bWwiOiJzdWJtaXQiLCJ2YWx1ZSI6IiIsIm1hbmRhdG9yeSI6IjAiLCJuYW1lIjoic2VuZCIsImJzX2NsYXNzX2lkIjoiNiIsImRpc3BsYXkiOiIiLCJtaW5fc2l6ZSI6IiIsIm1heF9zaXplIjoiIiwiYWRkX2NsYXNzZXMiOiIiLCJhZGRfc3R5bGVzIjoiIiwiYWRkX2F0dHIiOiIiLCJ2bl9vbmx5X251bWJlciI6IjAiLCJ2bl9vbmx5X2xldHRlcnMiOiIwIiwidm5fcGF0dGVybiI6IjAiLCJkZWZfY2hlY2tlZCI6IjAifSx7ImxhYmVsIjoiUmVzZXQiLCJwbGFjZWhvbGRlciI6IiIsImh0bWwiOiJyZXNldCIsInZhbHVlIjoiIiwibWFuZGF0b3J5IjoiMCIsIm5hbWUiOiJyZXNldCIsImJzX2NsYXNzX2lkIjoiNiIsImRpc3BsYXkiOiIiLCJtaW5fc2l6ZSI6IiIsIm1heF9zaXplIjoiIiwiYWRkX2NsYXNzZXMiOiIiLCJhZGRfc3R5bGVzIjoiIiwiYWRkX2F0dHIiOiIiLCJ2bl9vbmx5X251bWJlciI6IjAiLCJ2bl9vbmx5X2xldHRlcnMiOiIwIiwidm5fcGF0dGVybiI6IjAiLCJkZWZfY2hlY2tlZCI6IjAifV0sIm9wdHNfYXR0cnMiOnsiYmdfbnVtYmVyIjoiNCJ9fSwiaW1nX3ByZXZpZXciOiJiYXNlLWNvbnRhY3QuanBnIiwidmlld3MiOiIzNTI2IiwidW5pcXVlX3ZpZXdzIjoiMjQzNCIsImFjdGlvbnMiOiIzMyIsInNvcnRfb3JkZXIiOiIwIiwiaXNfcHJvIjoiMCIsImFiX2lkIjoiMCIsImRhdGVfY3JlYXRlZCI6IjIwMTYtMDgtMDIgMTQ6MTI6MTAiLCJpbWdfcHJldmlld191cmwiOiJodHRwczpcL1wvd3d3LmtpZGRlcm1pbnN0ZXJjaG9yYWxzb2NpZXR5LmNvLnVrXC93cC1jb250ZW50XC9wbHVnaW5zXC9jb250YWN0LWZvcm0tYnktc3Vwc3lzdGljXC9hc3NldHNcL2Zvcm1zXC9pbWdcL3ByZXZpZXdcL2Jhc2UtY29udGFjdC5qcGciLCJ2aWV3X2lkIjoiMTBfMTUzNzY3Iiwidmlld19odG1sX2lkIjoiY3NwRm9ybVNoZWxsXzEwXzE1Mzc2NyIsImNvbm5lY3RfaGFzaCI6ImM4MGJmMzdlN2NjMGRmNjc0M2Q5YzhiYjlhNzM2MTJjIn0=