Primary Chords is the youngest of the KCS choirs. It welcomes children aged 5-10 from the Wyre Forest area and meets on Wednesdays, in term time, in The Chantry at St Mary's Church, Kidderminster, from 4.15- 5.15pm. Rehearsals begin with musical games and a vocal warm up.
Each term the choir prepares a new repertoire of songs which include rounds, folk songs, songs from the shows, spirituals and seasonal songs. Most are in two or more parts.
The choir is trained and conducted by Carol Hill and is accompanied by Nicci Lane.
Summer performances include:- Joseph, Oliver, The Sound of Music, Mary Poppins, Peter Pan, Jungle Book, Beatle Mania and offer the opportunity to perform as a soloist as well as singing with the choir.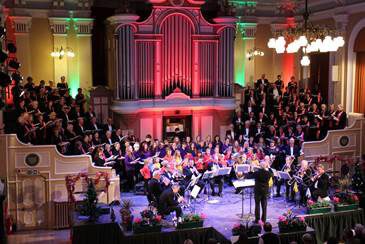 Exciting Performances
The choir takes part in some of the concerts presented by Wyre Forest Young Voices and the Choral Society, as well as putting on its own concerts and having a programme of other activities.
Presentations have included "Joseph and his Amazing Technicolour Dreamcoat", at the Rose Theatre in Kidderminster, an open-air concert at Bodenham Arboretum, and "sing-along" performances of music from "The Sound of Music" and "Oliver".
Many members of Primary Chords go on to join WFYV.
Fantastic concert last night at Kidderminster Town Hall. Congratulations to all involved. Some wonderful solos – some of them coming from within the Primary Chords children's choir who were brilliant. Thank you to all who came and supported us. See you at the Christmas Gala concert on 20th December.
We are Celebrating!
In 2017 Primary Chords celebrated their 15th Anniversary, an exciting milestone!  They are looking forward to the next 15 years!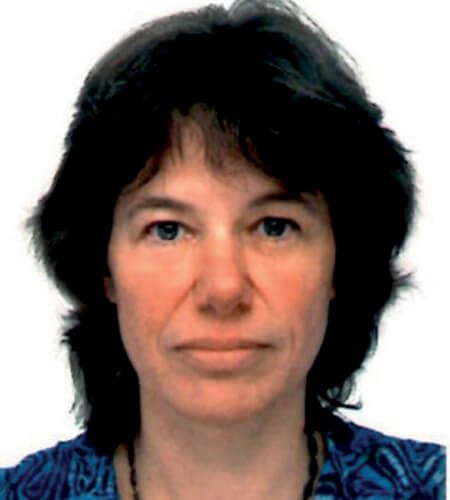 Carol Hill – Musical Director
Carol, who comes from Lincolnshire, took her degree in Modern Language Studies at Leicester University and a PGCEC in Primary and Middle School Music at Bulmershe College, Reading.
Since then she has taught at Windmill Middle School, Stourport, The Knoll School, Kidderminster, and now teaches Primary Music and French at Heathfield Knoll School, Wolverley. She also conducts the local ecumenical choir 'New Life Together' and sings with Kidderminster Choral Society.
Nicci Lane – Musical Accompanist
After studying Music and Mathematics at Keele University, Nicci spent two years with an itinerant Christian music group, working in secondary schools across the UK and parts of Europe.
Settling back in the Wyre Forest, she worked in a local church as a worship leader and youth pastor before becoming a full-time mum.
She now teaches piano at the Holy Trinity School as well as co-running 'Tots Rock' a music group for toddlers.
Rehearsal Times & Subscriptions
When? Wednesdays
Time?   4.15pm to 5.15pm
Where? St Mary's Church, The Chantry, Kidderminster.
St Mary's Church, Churchfields, Kidderminster, DY10 2JN
Become a Member Today!
For more information on joining the Primary Chords choir, please fill out our form below and our Primary Chords Director, Carol Hill, will be in touch.
eyJpZCI6IjE2IiwibGFiZWwiOiJNZW1iZXItUHJpbWFyeSBDaG9yZHMiLCJhY3RpdmUiOiIxIiwib3JpZ2luYWxfaWQiOiIxIiwidW5pcXVlX2lkIjoid2VmajIiLCJwYXJhbXMiOnsiZW5hYmxlRm9yTWVtYmVyc2hpcCI6IjAiLCJ0cGwiOnsid2lkdGgiOiIxMDAiLCJ3aWR0aF9tZWFzdXJlIjoiJSIsImJnX3R5cGVfMCI6Im5vbmUiLCJiZ19pbWdfMCI6IiIsImJnX2NvbG9yXzAiOiIjODFkNzQyIiwiYmdfdHlwZV8xIjoiY29sb3IiLCJiZ19pbWdfMSI6IiIsImJnX2NvbG9yXzEiOiIjMzMzMzMzIiwiYmdfdHlwZV8yIjoiY29sb3IiLCJiZ19pbWdfMiI6IiIsImJnX2NvbG9yXzIiOiIjYzI5ODY3IiwiYmdfdHlwZV8zIjoiY29sb3IiLCJiZ19pbWdfMyI6IiIsImJnX2NvbG9yXzMiOiIjYzI5ODY3IiwiZmllbGRfZXJyb3JfaW52YWxpZCI6IiIsImZvcm1fc2VudF9tc2ciOiJUaGFuayB5b3UgZm9yIGNvbnRhY3RpbmcgdXMhIE91ciBtZW1iZXJzaGlwIFNlY3JldGFyeSB3aWxsIGJlIGluIHRvdWNoIHNob3J0bHkuIiwiZm9ybV9zZW50X21zZ19jb2xvciI6IiM0YWU4ZWEiLCJoaWRlX29uX3N1Ym1pdCI6IjEiLCJyZWRpcmVjdF9vbl9zdWJtaXQiOiIiLCJ0ZXN0X2VtYWlsIjoibGluZHNheXdoaXRlQGJ0Y29ubmVjdC5jb20iLCJzYXZlX2NvbnRhY3RzIjoiMSIsImV4cF9kZWxpbSI6IjsiLCJmYl9jb252ZXJ0X2Jhc2UiOiIiLCJwdWJfcG9zdF90eXBlIjoicG9zdCIsInB1Yl9wb3N0X3N0YXR1cyI6InB1Ymxpc2giLCJyZWdfd3BfY3JlYXRlX3VzZXJfcm9sZSI6InN1YnNjcmliZXIiLCJmaWVsZF93cmFwcGVyIjoiPGRpdiBbZmllbGRfc2hlbGxfY2xhc3Nlc10gW2ZpZWxkX3NoZWxsX3N0eWxlc10+W2ZpZWxkXTxcL2Rpdj4ifSwiZmllbGRzIjpbeyJsYWJlbCI6IiIsInBsYWNlaG9sZGVyIjoiRnVsbCBOYW1lIiwiaHRtbCI6InRleHQiLCJ2YWx1ZSI6IiIsIm1hbmRhdG9yeSI6IjEiLCJuYW1lIjoiZnVsbF9uYW1lIiwiYnNfY2xhc3NfaWQiOiIxMiIsImRpc3BsYXkiOiIiLCJtaW5fc2l6ZSI6IiIsIm1heF9zaXplIjoiIiwiYWRkX2NsYXNzZXMiOiIiLCJhZGRfc3R5bGVzIjoiIiwiYWRkX2F0dHIiOiIiLCJ2bl9vbmx5X251bWJlciI6IjAiLCJ2bl9vbmx5X2xldHRlcnMiOiIwIiwidm5fcGF0dGVybiI6IjAiLCJkZWZfY2hlY2tlZCI6IjAifSx7ImxhYmVsIjoiIiwicGxhY2Vob2xkZXIiOiJDb250YWN0IE51bWJlciIsImh0bWwiOiJ0ZXh0IiwidmFsdWUiOiIiLCJtYW5kYXRvcnkiOiIxIiwibmFtZSI6InRlbGVwaG9uZV9udW1iZXIiLCJic19jbGFzc19pZCI6IjYiLCJkaXNwbGF5Ijoicm93IiwibWluX3NpemUiOiIiLCJtYXhfc2l6ZSI6IiIsImFkZF9jbGFzc2VzIjoiIiwiYWRkX3N0eWxlcyI6IiIsImFkZF9hdHRyIjoiIiwidm5fb25seV9udW1iZXIiOiIwIiwidm5fb25seV9sZXR0ZXJzIjoiMCIsInZuX3BhdHRlcm4iOiIiLCJkZWZfY2hlY2tlZCI6IjAifSx7ImxhYmVsIjoiIiwicGxhY2Vob2xkZXIiOiJFbWFpbCBBZGRyZXNzIiwiaHRtbCI6ImVtYWlsIiwidmFsdWUiOiIiLCJtYW5kYXRvcnkiOiIxIiwibmFtZSI6ImVtYWlsIiwiYnNfY2xhc3NfaWQiOiI2IiwiZGlzcGxheSI6InJvdyIsIm1pbl9zaXplIjoiIiwibWF4X3NpemUiOiIiLCJhZGRfY2xhc3NlcyI6IiIsImFkZF9zdHlsZXMiOiIiLCJhZGRfYXR0ciI6IiIsInZuX29ubHlfbnVtYmVyIjoiMCIsInZuX29ubHlfbGV0dGVycyI6IjAiLCJ2bl9wYXR0ZXJuIjoiMCIsImRlZl9jaGVja2VkIjoiMCJ9LHsibGFiZWwiOiIiLCJwbGFjZWhvbGRlciI6Ik1lc3NhZ2UiLCJodG1sIjoidGV4dGFyZWEiLCJ2YWx1ZSI6IiIsIm1hbmRhdG9yeSI6IjEiLCJuYW1lIjoibWVzc2FnZSIsImJzX2NsYXNzX2lkIjoiMTIiLCJkaXNwbGF5Ijoicm93IiwibWluX3NpemUiOiIiLCJtYXhfc2l6ZSI6IiIsImFkZF9jbGFzc2VzIjoiIiwiYWRkX3N0eWxlcyI6IiIsImFkZF9hdHRyIjoiIiwidm5fb25seV9udW1iZXIiOiIwIiwidm5fb25seV9sZXR0ZXJzIjoiMCIsInZuX3BhdHRlcm4iOiIwIiwiZGVmX2NoZWNrZWQiOiIwIn0seyJsYWJlbCI6IlllcyBJIHdvdWxkIGxpa2UgdG8gcmVjZWl2ZSBtYXJrZXRpbmcgbWF0ZXJpYWxzIGZyb20gS2lkZGVybWluc3RlciBDaG9yYWwgU29jaWV0eS4iLCJwbGFjZWhvbGRlciI6IiIsImh0bWwiOiJjaGVja2JveCIsInZhbHVlIjoiIiwibWFuZGF0b3J5IjoiMCIsIm5hbWUiOiJHRFBSQ2hlY2tib3hlcyIsImJzX2NsYXNzX2lkIjoiMTIiLCJkaXNwbGF5Ijoicm93IiwibWluX3NpemUiOiIiLCJtYXhfc2l6ZSI6IiIsImFkZF9jbGFzc2VzIjoiIiwiYWRkX3N0eWxlcyI6IiIsImFkZF9hdHRyIjoiIiwidm5fb25seV9udW1iZXIiOiIwIiwidm5fb25seV9sZXR0ZXJzIjoiMCIsInZuX3BhdHRlcm4iOiIiLCJ2YWx1ZV9wcmVzZXQiOiIiLCJkZWZfY2hlY2tlZCI6IjAiLCJsYWJlbF9kZWxpbSI6IiIsInZuX2VxdWFsIjoiIiwiaWNvbl9jbGFzcyI6IiIsImljb25fc2l6ZSI6IiIsImljb25fY29sb3IiOiIiLCJpY29uX3NlbGVjdGVkX2NvbG9yIjoiIiwicmF0ZV9udW0iOiIiLCJ0aW1lX2Zvcm1hdCI6ImFtX3BtIn0seyJsYWJlbCI6IlNlbmQiLCJwbGFjZWhvbGRlciI6IiIsImh0bWwiOiJzdWJtaXQiLCJ2YWx1ZSI6IiIsIm1hbmRhdG9yeSI6IjAiLCJuYW1lIjoic2VuZCIsImJzX2NsYXNzX2lkIjoiNiIsImRpc3BsYXkiOiIiLCJtaW5fc2l6ZSI6IiIsIm1heF9zaXplIjoiIiwiYWRkX2NsYXNzZXMiOiIiLCJhZGRfc3R5bGVzIjoiIiwiYWRkX2F0dHIiOiIiLCJ2bl9vbmx5X251bWJlciI6IjAiLCJ2bl9vbmx5X2xldHRlcnMiOiIwIiwidm5fcGF0dGVybiI6IjAiLCJkZWZfY2hlY2tlZCI6IjAifSx7ImxhYmVsIjoiUmVzZXQiLCJwbGFjZWhvbGRlciI6IiIsImh0bWwiOiJyZXNldCIsInZhbHVlIjoiIiwibWFuZGF0b3J5IjoiMCIsIm5hbWUiOiJyZXNldCIsImJzX2NsYXNzX2lkIjoiNiIsImRpc3BsYXkiOiIiLCJtaW5fc2l6ZSI6IiIsIm1heF9zaXplIjoiIiwiYWRkX2NsYXNzZXMiOiIiLCJhZGRfc3R5bGVzIjoiIiwiYWRkX2F0dHIiOiIiLCJ2bl9vbmx5X251bWJlciI6IjAiLCJ2bl9vbmx5X2xldHRlcnMiOiIwIiwidm5fcGF0dGVybiI6IjAiLCJkZWZfY2hlY2tlZCI6IjAifV0sIm9wdHNfYXR0cnMiOnsiYmdfbnVtYmVyIjoiNCJ9fSwiaW1nX3ByZXZpZXciOiJiYXNlLWNvbnRhY3QuanBnIiwidmlld3MiOiIxMzg3IiwidW5pcXVlX3ZpZXdzIjoiOTk0IiwiYWN0aW9ucyI6IjE0Iiwic29ydF9vcmRlciI6IjAiLCJpc19wcm8iOiIwIiwiYWJfaWQiOiIwIiwiZGF0ZV9jcmVhdGVkIjoiMjAxNi0wOC0wMyAxMzowMjozMiIsImltZ19wcmV2aWV3X3VybCI6Imh0dHBzOlwvXC93d3cua2lkZGVybWluc3RlcmNob3JhbHNvY2lldHkuY28udWtcL3dwLWNvbnRlbnRcL3BsdWdpbnNcL2NvbnRhY3QtZm9ybS1ieS1zdXBzeXN0aWNcL2Fzc2V0c1wvZm9ybXNcL2ltZ1wvcHJldmlld1wvYmFzZS1jb250YWN0LmpwZyIsInZpZXdfaWQiOiIxNl85NzQzNjQiLCJ2aWV3X2h0bWxfaWQiOiJjc3BGb3JtU2hlbGxfMTZfOTc0MzY0IiwiY29ubmVjdF9oYXNoIjoiOGY0ZjhkZDYyMDRhY2NkNWY1ODM2ZjU1ZTg1Zjc3ZDMifQ==